Best of The West
Immerse and surround yourself in a unique Western Australian location, one of the best areas of the West. Stay at Karma Chalets, an award recognised accommodation provider.
View Tripadvisor and Facebook to see more reviews and testimonials from people who have already stayed at Karma Chalets before.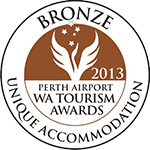 Relaxation and Comfort by the Fire

We (My husband and 2 children, 16 and 3) recently spent 4 days at Karma Chalets, for my birthday, in the Destiny Chalet. The accomodation was fabulous, spotless and the perfect size for a small family. Would highly recommend Karma Chalets to both families and couples. We will be returning!!

7 July 2018

Read More
Picture Perfect

The chalet featured a beautiful view over fields and woods towards the ocean making the balcony a wonderful place to sit and relax with a glass of wine. Kangaroos bound past just metres from the chalet, some nice moments feeling deep in nature. We were super impressed by our chalet and likely to book again.

5 April 2018

Read More
Lovely to be in a forest!

We stayed in 'Fortunate' during the Taste Great Southern festival. The chalet was very comfortable, the kitchen well equipped, and a delightful touch was the packet of bird seed provided so that we could feed the birds every morning and evening. All in all a very pleasant, relaxing stay in a Karri forest.

12 April 2018

Read More
Peace and Tranquility

Stayed at Zen early November. This was our third visit to Karma Chalets in Zen. Explore in the day. Chill in the evenings with a BBQ. Beautiful wineries close by offering delicious lunches and some open for evening meals. A wonderful place to stay for peace and tranquillity and an opportunity to escape the rat race!

23 November 2017

Read More
Fantastic!

We stayed at a chalet nestled on a hillside with views all the way to the ocean. There was a wrap around balcony and it was very peaceful sitting there watching the fairy wrens flitting from tree to tree. It was only about 5 mins drive to the town centre of Denmark . We loved it and will definitely be back!

18 May 2018

Read More
Your South Coast Adventure Awaits
Walk in the Valley of the Giants, float around at Elephants Pool or hit the mountain bike trails.
Spend time at the Ocean and Earth Boutique Day Spa and receive a 10% discount voucher.
Wineries, beaches, walk & bike trails and restaurants are all close by.